Anna Schmidt
Food Web Laboratory Analyst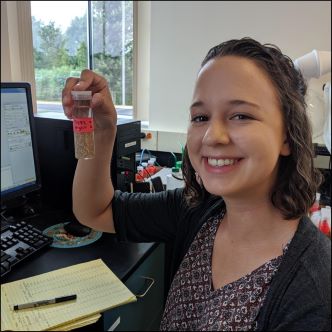 4840 South State Street
Ann Arbor, MI 48108-9719
Anna Schmidt is a Food Web Laboratory Analyst working with Drs. Michael Fraker (CIGLR), Ed Rutherford (NOAA GLERL) and Doran Mason (NOAA GLERL) to organize and execute field sampling and laboratory analyses related to zooplankton, larval fish and Mysis ecology in the Great Lakes.
Education:
B.S., Biology and Environmental Sciences, University of Wisconsin-Madison, May 2020
Research Interest/Area of Expertise:
Aquatic Invasive Species

Food Web Dynamics

Mysis Shrimp Ecology

Aquatic Microbial Ecology

Science Education and Outreach
Presentations:
Schmidt, A.G., Peterson, B.D., McMahon, K.D. April 2020. Characterizing zooplankton-associated microbial communities and their roles in lake processes. UW-Madison 2020 Virtual Undergraduate Symposium.
Schmidt, A.G., Mason, D., Rutherford, E., Rudstam, L. August 2019. Fine-scale diel vertical distribution, size structure, and biomass of Mysis in Lakes Michigan and Huron. 2019 CIGLR Great Lakes Summer Fellows Final Presentations. Ann Arbor, Michigan.
Schmidt, A.G., Peterson, B.D., McMahon, K.D. June 2019. Zooplankton-associated bacterial communities and their role in mercury cycling. ASM Microbe 2019. San Francisco, California.
2019 Great Lakes Summer Fellow Feature: