Christine Kitchens
Aquatic Ecology Research Technician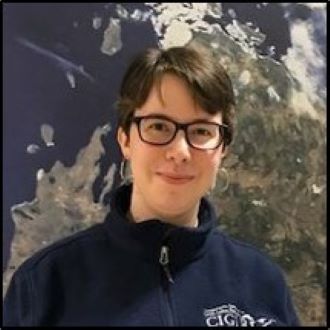 4840 South State Street
Ann Arbor, MI 48108-9719
During my undergraduate, I worked in the Soil Science Department at North Carolina State University testing groundwater quality around NC as well as testing new technology for removing arsenic from drinking water. I then transitioned to researching harmful algal bloom ecology in graduate school, specifically understanding the abundance and vitality of overwintering populations of Microcystis in Western Lake Erie. I completed my Master's thesis in April 2017 and now work full-time monitoring summer harmful algal blooms in Western Lake Erie and Saginaw Bay. When I'm not working at the lab, I spend my time volunteering or playing way too many games (both the tabletop and electronic variety).
Education:
M.S., Natural Resources and Environment, Conservation Ecology, University of Michigan, 2017
B.S., Environmental Science, North Carolina State University, 2014
Research Interests/Area of Expertise: 
Harmful Algal Bloom Ecology
Water Quality Monitoring
Nutrient Cycling in Freshwater
Fluorescence Spectrometry
Publications:
Kitchens, C.M., T.H. Johengen and T.W. Davis. 2018. Establishing spatial and temporal patterns in Microcystis sediment seed stock viability and their relationship to subsequent bloom development in Western Lake Erie. (DOI:10.1371/journal.pone.0206821) [Altmetric Score]
Knight, C.M. Master of Science – Thesis. 2017. Establishing Spatial And Temporal Patterns In Microcystis Sediment Seed Stock Viability And Their Relationship To Subsequent Bloom Development In Western Lake Erie. 
.
Presentations:
2020 Poster. "Timing and Rates of Hypoxic Manganese Flux from Lake Erie Sediments." International Association for Great Lakes Research Conference 2020. Online.
2019 Presentation. "A Tale of Two Lakes: Eutrophy in Western Lake Erie and Oligotrophy in Lake Michigan." Nerd Nite. Ann Arbor, MI, USA.
Christine is a recent 2017 graduate from the University of Michigan School for Environment and Sustainability. She completed her graduate work with CIGLR Research Scientist Dr. Thomas Johengen. Currently, Christine works full-time with CIGLR monitoring summer harmful algal blooms in Western Lake Erie and Saginaw Bay, Lake Huron.
Christine created CIGLR's first educational video about hypoxia to help reach our Great Lakes' community outside of academia. She says, "Science should be accessible to everyone, from the seasoned academic to the person who is just beginning their exploration of science…we as researchers should think about the variety of ways people learn and understand science…"