Devin Gill
Stakeholder Engagement Specialist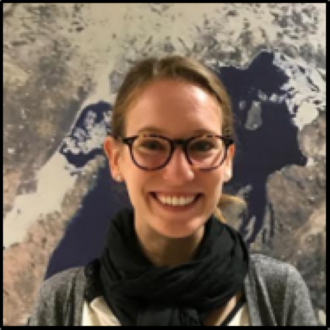 4840 South State St.
Ann Arbor, MI 48108-9719
As a stakeholder engagement specialist, Devin Gill works with CIGLR's harmful algal blooms (HABs) and hypoxia early warning system teams to connect scientists with citizens. Her role is to translate scientific research for the public, and ensure that forecast tools are useful for stakeholders. Learn more about CIGLR's Stakeholder Engagement by following this link.
Education:
M.S., Natural Resources and Environment (Behavior, Education,and Communication), University of Michigan, 2017
B.A., Environment (Environmental Journalism), University of Michigan, 2011
B.A., History, University of Michigan, 2011
Research Interest/Area of Expertise:
Understanding the factors that influence stakeholder decision-making when impacted by HABs or hypoxia. For my Master's research, I explored the impact of HABs on recreational anglers and charter captains in Lake Erie in an effort to provide recommendations for improvement of the HAB Tracker Forecast Model. Other interests include behavior change models and environmental education program evaluation.
Publications:
Lower, E., Sturtevant, R. and Gill, D. 2020. Sharing Feedback, Sharing Screens: Videoconferencing as a Tool for Stakeholder-Driven Web Design. Journal of Extension. 
Guo, T., Gill, D., Johengen, T., and Cardinale, B. (2019). What determine's the public's support for water quality regulations to mitigate agricultural runoff? Environ. Sci. Pol. (101):323-330. (DOI:10.1016/j.envsci.2019.09.008). [Altmetric Score]
Gill, D., Rowe, M., and Joshi, S. (2018). Fishing in greener waters: Understanding the impact of harmful algal blooms on Lake Erie anglers and the potential for adoption of a forecast model. J. Environ. Manage.(227):248-255. (DOI:10.1016/j.jenvman.2018.08.074). [Altmetric Score]
.
Presentations:
Devin's important work to connect research teams with data users ensures that our products are useful and relevant to society. "My goal as the stakeholder engagement specialist is to build a relationship between scientists and community groups to ensure that we're all working together to promote this hugely important resource, the Great Lakes," says Devin.
"We want to begin speaking with community members, stakeholder groups from the get-go to understand what their interests are, what their problems are in dealing with water quality. So, that we're working with them to develop solutions," says Stakeholder Engagement Specialist Devin Gill during an interview with the Ocean Conservancy.