CIGLR Announces 2021 Annual Magazine: Ripple Effect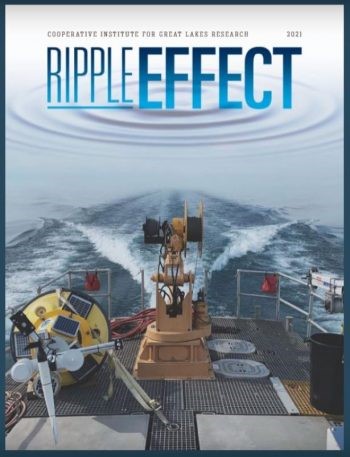 CIGLR is proud to announce the publication of our 2021 annual magazine, Ripple Effect. This issue introduces CIGLR's new Director, Dr. Gregory Dick, provides several research institute and regional consortium updates, discusses results from our program awards, and introduces new staff, students and fellows.
"As you will read within this volume of the Ripple Effect, I need to commend all of our CIGLR staff for their tremendous dedication and commitment to completing mission-critical work with our colleagues at NOAA GLERL, and for working every day to find creative ways to do their job to the best of their ability," said Dr. Thomas Johengen, former CIGLR Acting Director. "The transition of our new permanent CIGLR Director also certainly scores well along those goals. I could not be happier or more confident about handing over the reins to Professor Greg Dick."
"From the very beginning of my time at Michigan, CIGLR played a key role in my evolution as a scientist," said Dr. Gregory Dick, CIGLR Director. "I am excited to join and lead CIGLR and I look forward to building on the foundation of excellence that has been established by previous CIGLR Directors as well as Research Scientists, staff, and our NOAA GLERL partners."
If you are interested in a print version of the magazine, please contact CIGLR at: ContactCIGLR@umich.edu.
CIGLR Energizes Great Lakes Partnerships with Virtual 5th All Partners Meeting
Each year, the Cooperative Institute for Great Lakes Research (CIGLR) hosts a 2-day meeting that aims to coordinate research goals and foster new research partnerships between NOAA GLERL and members of CIGLR's Regional Consortium. Like last year, the 2021 meeting will be held virtually from November 4-5, with more than 100 scientists from the CIGLR Research Institute, CIGLR Regional Consortium, and NOAA in attendance.
The meeting will start with welcome presentations by NOAA GLERL Director Deborah Lee and CIGLR Director Gregory Dick, providing overviews of GLERL/CIGLR and laying out pathways to collaboration. Meeting sessions will include presentations by CIGLR, GLERL, and Regional Consortium investigators on social science and policy development; research co-development with nongovernmental organizations (NGOs); and future research directions in observing systems and advanced technology, modeling and forecasting, and ecosystem dynamics.  A virtual poster session will give attendees the opportunity to showcase their research successes and for one-on-one discussions. Facilitated breakout sessions, will provide opportunities for investigators from the CIGLR Regional Consortium, CIGLR Research Institute, and NOAA GLERL to identify and prioritize opportunities for collaboration, including strategies for pursing new research directions..
5th Annual CIGLR Photo Contest Winners!
With a universal passion for water, the Great Lakes, and science, photographers from CIGLR seek to tell their stories through the lens. For the fifth year in a row, the CIGLR Photo Contest entries feature images that inform, inspire, and amaze. The artful stories that emerge offer shared experiences and adventure through our Great Lakes research. Learn more about CIGLR through our photographs on our Flickr website.