Michele Wensman
Outreach Specialist and Benthic Ecology Research Technician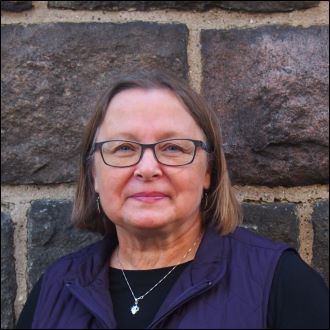 University of Michigan
Dana Building, G110A
440 Church Street
Ann Arbor, MI 48109-1041
Michele has a dual role at CIGLR as Outreach Specialist and Benthic Ecology Research Technician. As Outreach Specialist, Michele holds several responsibilities including: Coordinating CIGLR's outreach events, assisting with the media library, working with the Great Lakes Summer Fellows, and conducting lab tours. Michele is a member of the CIGLR ECO Team.
As Benthic Ecology Research Technician, Michele works in GLERL's Preserved Biology Laboratory under Dr. Ashley Elgin. Michele's primary work is with long term research in Lake Michigan to process benthic invertebrate sediment samples, and to assist with the dreissenid mussel cage experiment and condition work in the Great Lakes Basin.
Prior to CIGLR, Michele held positions at two science centers, one in New Hampshire and one in Michigan, where some of her responsibilities included organizing and running fundraising events, cultivating a strong volunteer program, and conducting field science. Michele has enjoyed the many opportunities to connect communities and stakeholders to scientists and their research.
Education:
Vermont College of Norwich University, BA
Research Interest/Area of Expertise:
Freshwater and Marine Ecosystems
Water Quality
Phytoplankton Ecology
Benthic Ecology
Great Lakes Regional Ecosystems
Science Education and Outreach
Experiences:
Teach outreach programs for primary and secondary students; Coordinate and manage outreach events; Assist with annual fundraising events; Recruit, train, and coordinate adults, student interns, and teen volunteers; Update volunteer training manuals, provide continuing education for volunteers.
Volunteer for the Purple Loosestrife Biological Control program; New Hampshire Audubon Society's bald eagle monitoring program; University of New Hampshire Cooperative Extension/Sea Grant phytoplankton and water quality monitoring program in the Gulf of Maine and Great Bay Estuary- identifying/cell counts of diatoms and dinoflagellates to detect HABS for impacts on coastal shellfish beds; raptor handler; GLANSIS website QC editor.
Assist with sediment sample benthos picking, sort and measure dreissenid mussel samples, conduct dreissenid mussel scanning, running and reconciling analysis, assist with dreissenid mussel condition factor and length-weight regression, update lab growth database, and growing algal cultures for hyperspectral HABs work in Lake Erie.
Presentations:
Vander Woude, Andrea; Steve Ruberg; Dack Stuart; Michele Wensman; Zachary Haslick. Great Lakes Hyperspectral Flyovers at NOAA GLERL. Poster Presentation.
Related Media:
CIGLR's outreach mission is to connect with communities and work with them to solve the complex problems facing the Great Lakes. This year, CIGLR made connections with several communities in the Great Lakes region and reconnected with many familiar faces. CIGLR's Outreach Specialist, Michele Wensman, says "the more people we can reach and the more we share our common bond about the Great Lakes, whether it be through research or recreation, the greater our success is together throughout the region. We look forward to connecting with even more Great Lakes communities in the future and hope to continue inspiring and encouraging a culture of Great Lakes stewardship."