Description
CIGLR provides short-term funding up to $10,000 to form an initial response to an emergency or time-sensitive need in the Great Lakes (e.g., Flint water crisis, Toledo water crisis, oil or chemical spill, 100-year storm, etc.). Decisions on rapid proposals can be made internally in 2 days, and provide the seed funding researchers need to be 'first-responders' even as they solicit more substantial funds from an appropriate agency or organization. Any principal investigator or student from a Regional Consortium University Partner institution or Private Sector Partner organization may request rapid funding.
2019 Program Announcement
•  Rapid Funding Request for Proposals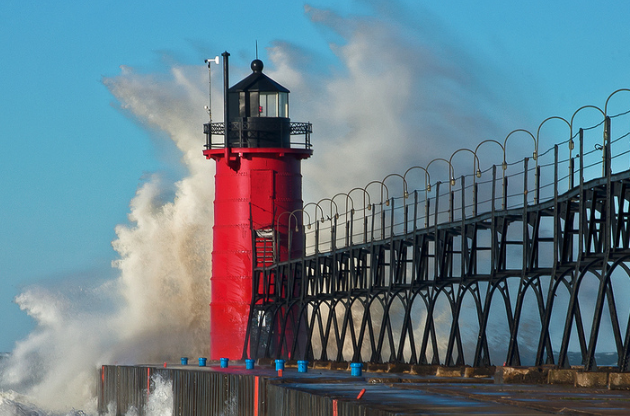 Project Title: Enhanced monitoring and data management to support meteotsunami research and detection
Key Project Personnel: Dr. Phillip Chu (NOAA GLERL) and Ed Verhamme (Principal Investigator, Limnotech)
In The News: Scientists launch pilot project to warn of potentially dangerous 'meteotsunami' waves in Great Lakes; Michigan News; 8/3/2018
About: The recent occurrences of a meteotsunami event on Lake Michigan, including a 14 inch water level rise in only 40 minutes near Ludington MI on April 13, 2018 (MLive), demonstrated that the existing observing network is not adequate to observe or attempt to predict this phenomenon. Meteotsunamis have the potential to cause significant damage to shoreline structures and can endanger lives (Bechle et al. 2016, Nature). A more robust monitoring and alert system is needed on Lake Michigan and Lake Erie to monitor, detect and mitigate the impact of future events. The rapid funding provided by CIGLR will be used to immediately supplement ongoing projects at NOAA GLERL and LimnoTech to develop a monitoring and notification system for atmospherically significant events that could lead to meteotsunami events. The rapid response funds will be used to (1) develop a data management system to log, archive, and display relevant meteorological (wind speed, direction and air pressure) and water level data from existing and new stations and (2) upgrade the existing observing system reporting frequency and add up to four new stations. Both tasks will focus on Lake Michigan and Lake Erie as those two lakes have higher occurrence and resulting impacts to life and property.