Description
CIGLR provides short-term funding up to $10,000 to form an initial response to an emergency or time-sensitive need in the Great Lakes (e.g., Flint water crisis, Toledo water crisis, oil or chemical spill, 100-year storm, etc.). Decisions on rapid proposals can be made internally in 2 days, and provide the seed funding researchers need to be 'first-responders' even as they solicit more substantial funds from an appropriate agency or organization. Any principal investigator or student from a Regional Consortium University Partner institution or Private Sector Partner organization may request rapid funding.
2020 Program Announcement 
•  Rapid Funding Request for Proposals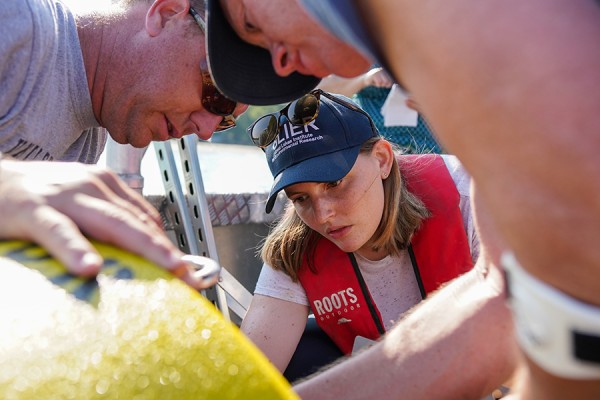 Researchers Trevor Pitcher (back), Katelynn Johnson (middle), and Aaron Fisk (front) prepare high-tech buoys to deploy in the Detroit River channel between LaSalle and Fighting Island. Photo Credit: University of Windsor.