Description
CIGLR provides short-term funding up to $10,000 to form an initial response to an emergency or time-sensitive need in the Great Lakes (e.g., Flint water crisis, Toledo water crisis, oil or chemical spill, 100-year storm, etc.). Decisions on rapid proposals can be made internally in 2 days, and provide the seed funding researchers need to be 'first-responders' even as they solicit more substantial funds from an appropriate agency or organization. Any principal investigator or student from a Regional Consortium University Partner institution or Private Sector Partner organization may request rapid funding.
2021 Program Announcement
•  Rapid Funding Request for Proposals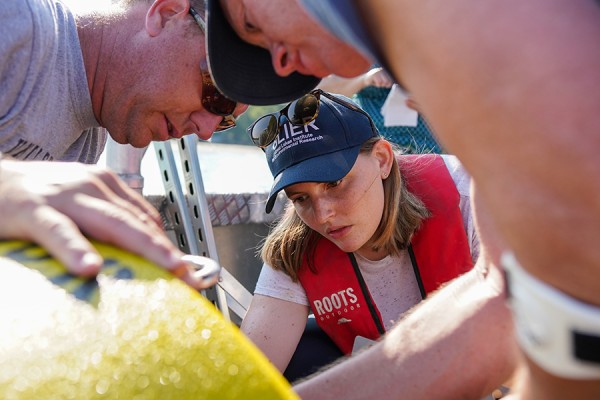 Researchers Trevor Pitcher (back), Katelynn Johnson (middle), and Aaron Fisk (front) prepare high-tech buoys to deploy in the Detroit River channel between LaSalle and Fighting Island. Photo Credit: University of Windsor.
Current Rapid Awards
Click here to learn more
Project Title: 2021 Rapid Funding Request: Characterizing Great Lakes Atlantic salmon microbiome and virome
Key Project Personnel:  Kevin Kapuscinski and Ashley Moerke (LSSU), Jason Knouft (St. Louis University), Fangqiong Ling, Washington University in St. Louis)
About: The microbiome represents the collective genomes of microbes in a particular environment and is generally characterized by high-throughput next generation sequencing of 16S rRNA genes. The virome is the viral analogue to the microbiome, representing collective genetic material of viruses within a particular environment. The gut microbiome has received significant attention in humans because of the role these microbes play in human heath, physiology, and behavior (Lozupone et al. 2012). Recent investigations of the gut microbiome in non-human animals confirm the important role that microbes play in organismal fitness and behavior (Colombo et al. 2015; Johnson and Foster 2018). These roles are particularly important in fisheries, where altered gut microbiomes in hatchery fish may contribute to decreased individual body condition (e.g., individuals not suited for food assimilation in natural habitats), suboptimal behavior (e.g., lack of neophobic responses and more susceptible to predation), and altered migration patterns. The virome in freshwater fishes is almost totally unexplored, leaving a significant gap in our understanding of the importance of viruses to the regulation of natural populations and the potential detrimental impacts of viruses on fish health in hatcheries.
The gut microbiome of Atlantic salmon (Salmo salar) has been shown to vary throughout the lifecycle of individuals, suggesting the association of these microbes with various aspects of the life history of this species (Llewellyn et al. 2016). More generally, the gut microbiome has also been suggested to be an important consideration for successful re-establishment of extirpated species (West et al. 2019), which is also relevant to Atlantic salmon. However, nothing is known about how the microbiome varies among Atlantic salmon individuals in hatcheries, the impact of this variation on survival, and whether hatchery conditions influence microbiome composition throughout the life-cycle of fish.
The Center for Freshwater Research and Education (CFRE) at Lake Superior State University operates an Atlantic salmon hatchery in collaboration with the Michigan Department of Natural Resources (MDNR). As a result of this unique operation, we have the opportunity to collect important preliminary data on the gut microbiome and virome of adult Atlantic salmon (hatchery-reared but living in the wild for 2-4 years), and whether these differ from assemblages in age-0 fish reared in the hatchery. However, there is a rapid need to conduct this work within the next several weeks.
Adult individuals reared at CFRE and at MDNR hatcheries are in the process of returning to the St. Marys River and will be sampled by scientists at CFRE in early November. Rapid funding will allow us to characterize the microbiome and virome of these fish which were raised and released from different hatcheries several years ago, along with juveniles currently in the facility. While protocols are available to preserve the microbiome for later processing, the virome will require almost immediate processing to avoid sample degradation. Moreover, these results are necessary to support larger proposals that will examine effects of diet and rearing conditions on the microbiome, virome, and performance of hatchery-raised Atlantic salmon.
---
Project Title: 2020 Rapid Funding Request: CIGLR Rapid Grant Proposal: COVID-19 Delays Great Lakes Buoy Deployment, Michigan Technological University Helps Fill the Gap
Key Project Personnel:  John Lenters (Michigan Technological University) 
In The News:
About: The COVID-19 pandemic has caused substantial delays in the deployment of weather / wave buoys throughout the Great Lakes, placing human lives at risk just at a time when communities are beginning to return to recreation, fishing, and boating on the Great Lakes. As of the start of Memorial Day weekend, none of the regularly deployed buoys from the National Data Buoy Center (NDBC) are on the lakes, and NDBC does not expect full deployment until mid July. Continued delays into the fall are possible, putting commercial shipping at risk during the height of the storm season. In addition, numerous nearshore buoys such as those along Pictured Rocks National Lakeshore also remain out of service due to COVID-related delays, despite reliance on these buoys by the National Weather Service (NWS), National Park Service, U.S. Coast Guard, recreational kayakers, and commercial fisherman, among many other groups. This constitutes an emergency situation that puts Great Lakes communities and businesses at significant risk from the massive gap in data and the adverse impact it will have on NWS nearshore marine forecasts.
The GLRC at MTU proposes to address this gap for Lake Superior by purchasing a Sofar Ocean "Spotter" wave buoy to measure wave conditions, wind velocity, and surface water temperature. The buoy would be deployed at a strategic location such as Pictured Rocks National Lakeshore or Stannard Rock (a popular fishing reef, and close to commercial shipping traffic). MTU is uniquely positioned to tackle this problem, as the GLRC has experience operating and testing the new Spotter technology, including transmission of data to public outlets (e.g., UGLOS, NDBC, and GLOS), and the GLRC also has a fleet of small boats that is capable of rapid deployment on Lake Superior. Sofar Ocean is prepared to ship a new Spotter immediately.