Deanna Fyffe
Aquatic Ecology Research Technician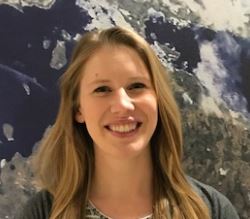 4840 South State Street
Ann Arbor, MI 48108-9719
Deanna started working at CIGLR as a summer fellow in 2017. She has since transitioned into a full-time employee and works on various projects involving Lake Erie's harmful algal bloom. She helps process and analyze weekly water samples from Lake Erie and Saginaw Bay as well as aids the Alliance for Coastal Technologies with field work, laboratory work, and data analysis. She also has past experience in microscopic phytoplankton identification, comprehensive watershed analysis, and GIS/remote sensing analysis of land and water resources.
Education: 
Miami University, Master of Environmental Science, 2017
Miami University, B.A. in Microbiology, co-major in Environmental Science, 2016
Research Interests:
Water Quality, Harmful Algal Blooms, Nutrient Pollution, Phytoplankton, Bacteria, Photosynthetic Pigment Fluorescence, Watershed Research, GIS and Remote Sensing
Related Media:
Let's meet CIGLR Aquatic Ecology Research Technician, Deanna Fyffe. In a "CIGLR Minute" Deanna highlights her work and research and talks about what she enjoys most about her job and working on the Great Lakes.