El Lower
GLANSIS Research Associate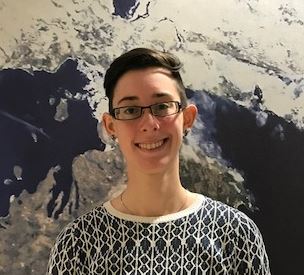 4840 South State St.
Ann Arbor, MI 48108-9719
As a GLANSIS Research Associate, El Lower develops and updates species profiles and mapping used to track the spread of aquatic non-indigenous species in the Great Lakes. Previously, El worked with Illinois-Indiana Sea Grant on assessing public perceptions of sediment remediation projects in Great Lakes coastal communities, served as an assistant botanist with the Illinois Natural History Survey, and conducted interviews and public meetings with stakeholders to discuss environmental equity in the Great Lakes region.
Education:

MS in Natural Resources and Environmental Science, University of Illinois Urbana-Champaign (2017)
BA in Humanities, Science, & Environment, Virginia Tech (2014)
Research Interests/Areas of Expertise:

Invasive species management
Great Lakes sediment remediation
Science writing
Stakeholder engagement
Risk communication
Publications:
McCoy, C., Lower, E., and Krupa, M. (2014). A Needs Assessment for Outreach and Stewardship in Milwaukee County's Lincoln Park. Rep. Champaign: Illinois-Indiana Sea Grant. Print.
McCoy, C., Krupa, M, and Lower, E. (2014). A Needs Assessment for Outreach in the Detroit River Area of Concern's Trenton Channel. Rep. Champaign: Illinois-Indiana Sea Grant. Print.
Many non-native species have been introduced to the Great Lakes and tracking them is critically important. GLANSIS is an acronym for the Great Lakes Aquatic Nonindigenous Species Information System and is a "one-stop shop" for information about aquatic invaders in the Great Lakes region. It acts as a digital toolkit that uses maps to show where different species occur throughout a watershed and provides information on their identification, management and control. GLANSIS is a very collaborative inter-agency project and is a free tool for both scientists and the general public to learn more about what's in their local waterways. Staying on the cutting edge of invasion science in the Great Lakes is our goal!