Stand Up for Great Lakes: Paddleboarders raise money for Great Lakes research and awareness
On June 18, 2019 three men from the group Stand Up for Great Lakes successfully paddleboarded across Lake Erie, traversing international waters and rough waves all in an effort to raise awareness for Great Lakes environmental issues. The nearly 80-mile, 24 hour trip began at Belle Isle State Park in Michigan, home of the Dossin Great Lakes Museum and ended at Catawba Island State Park, Ohio.
Joe Lorenz, Kwin Morris, and Jeff Guy have now crossed Lakes Superior, Huron, Michigan, and Erie, with Ontario on the horizon for 2020. As each lake paddle is completed, Stand Up for Great Lakes uses the publicity surrounding their trips to raise and donate money to a non-profit organization that conducts research and educates the public about the Great Lakes.
This year, the men dedicated the proceeds from their Lake Erie crossing fundraiser to CIGLR, who Joe Lorenz says "is doing spectacular work with algal bloom research and their efforts to safeguard the Great Lakes ecosystem. They are experts in Great Lakes issues, and we are thrilled to have them on our team."
"Our overall goal is to help keep the Great Lakes awesome," says Jeff Guy. "Our hope is to make a difference, educate, and raise awareness about environmental issues in the region."
CIGLR is using the donated funds to support student fellowships that train the next generation of Great Lakes scientists.
CIGLR welcomes five new members to our team!
Andrew Camilleri recently joined CIGLR as a Benthic Ecologist to work with Drs. Ashley Elgin (NOAA GLERL) and Tom Johengen (CIGLR) on research to understand the interactive effects of harmful algal blooms (HABs), hypoxia, and invasive mussels in the Great Lakes.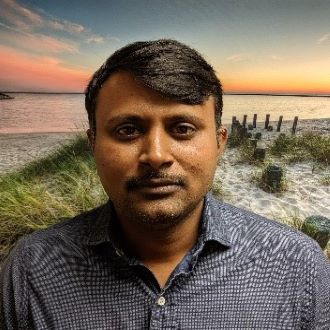 Dr. S. Rao Chaganti recently joined CIGLR as an Assistant Research Scientist. His research uses functional genomics to understand how environmental stressors like excess nutrients, invasive species, and climate change influence microbial processes, such as what triggers harmful algal bloom toxin production.
Dr. Yao Hu is a Postdoctoral Research Fellow working with Dustin Goering (NWS NCRFC), Lindsay Fitzpatrick (CIGLR), Dr. Dmitry Beletsky (CIGLR) and Dr. Brent Lofgren (NOAA GLERL) to develop decision support tools for agricultural nutrient application timing using the National Weather Service National Water Model framework.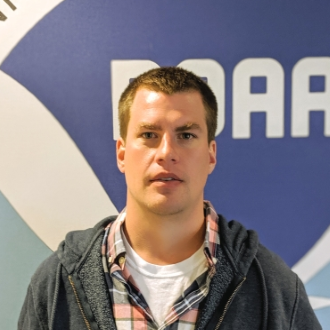 Dr. Nathan Marshall is a Postdoctoral Research Fellow working with Dr. Hank Vanderploeg (NOAA GLERL) to utilize environmental DNA (eDNA) to assess fish and zooplankton community composition across the Great Lakes.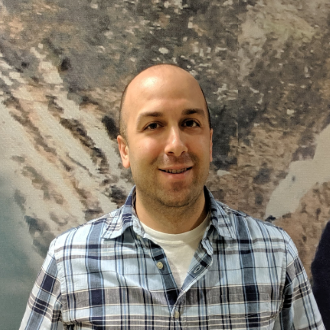 Dr. Dan Titze is a Hydrodynamic-Wave Modeler working alongside Dr. Dmitry Beletsky (CIGLR) and the Lake Champlain project team on a flood forecasting system for the lake.
Three CIGLR employees join NOAA GLERL
We congratulate Paul Glyshaw, James Kessler, and Danna Palladino on their new positions at the NOAA Great Lakes Environmental Research Laboratory. Paul recently joined the lab as a Great Lakes Lower Food Web Ecologist, focusing on the temporal and spatial patterns and interactions of these organisms. As NOAA GLERL's newest Physical Scientist, James is working on model development and forecasting for hydrodynamics, lake ice, and hydrology in the Great Lakes. Danna Palladino is NOAA GLERL's new Nutrient Ecologist working with the Environmental Sample Processor to perform harmful algal bloom sample analyses. CIGLR was fortunate to have Paul, James, and Danna on our team and we look forward to the many years of continued collaboration!
CIGLR hosts Great Lakes Ice Forecast Needs Assessment Workshop
On July 11, 2019, CIGLR partnered with NOAA GLERL and the Great Lakes Integrated Sciences and Assessments (GLISA) to host a Great Lakes Ice Forecast Needs Assessment Workshop for stakeholders in the transportation and navigation industries, including members of the Lake Carriers' Association and the ninth District U.S. Coast Guard.
This workshop connected stakeholders in the transportation industry with ice forecast developers to co-design the user interface of a new experimental short-term Great Lakes ice forecast. During workshop discussions, researchers and vessel operators created a shared understanding of how ice forecast information could support the decision-making of vessel captains. Results from this meeting will further inform the development of the new Great Lakes Ice Forecast.