Stakeholder Focus Groups Co-Design NOAA Great Lakes Experimental Ice Forecast
On June 17th and 25th, NOAA GLERL, CIGLR, and GLISA hosted virtual focus groups with the Great Lakes shipping and navigation industry to co-design an experimental short-term ice forecast for the NOAA Great Lakes Operational Forecast System. Industry representatives were asked to evaluate the usefulness of the proposed forecast and provide recommendations for improvement prior to transitioning the forecast to operations at the National Ocean Service and the National Ice Center. The focus groups are the final component of an innovative, three-year project to include stakeholders in collaborative research to develop the Great Lakes experimental ice forecast.
Three regional NOAA-funded organizations (CIGLR, the Great Lakes Integrated Sciences and Assessments program (GLISA), and the NOAA Great Lakes Environmental Research Laboratory (GLERL)) partnered to co-design the forecast by bringing together personnel from across these organizations with expertise in social sciences, stakeholder engagement, and ice modeling. As an interdisciplinary research team, they conducted workshops and interviews with stakeholders in the Great Lakes shipping and navigation network. The stakeholders helped to characterize the user types and flow of ice information within the Great Lakes Shipping and Navigation network, understand the informal decision-making process for Great Lakes ice navigation and the potential value of the new NOAA forecasts, and examine the role that risk and uncertainty play in shaping new forecast usability.
Early results indicate there is a need for a short-term forecast of ice thickness, concentration, and predicted movement. These variables are critical to informing where to safely navigate the Great Lakes during icy conditions, but access to this information was limited or non-existent prior to the development of the new forecast. Looking ahead, the research team is scheduling future opportunities for engaging with NOAA personnel regarding study results.
CIGLR welcomes new member to our team!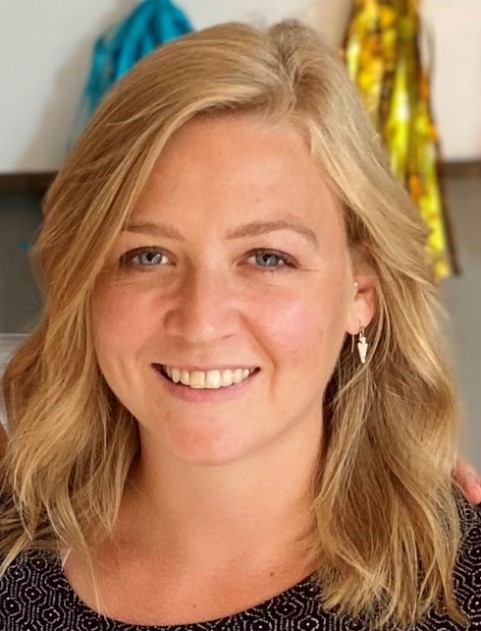 Abby Hutson, PhD, is a CIGLR Postdoctoral Research Fellow collaborating with Ayumi Fujisaki-Manome, PhD, and the climate modeling team at NOAA GLERL to improve the simulation of precipitation within the Great Lakes region and advance our understanding of its potential impact in a changing climate. Prior to working with CIGLR and NOAA GLERL, Hutson studied storm-scale dynamics within supercell thunderstorms, using both observations and numerical modeling to identify outflow characteristics associated with tornado formation.
.
CMU Biological Station Awards $5000 in Seed Funds
Congratulations to Central Michigan University Professor and CIGLR Regional Consortium partner Dr. Hunter Carrick and CIGLR Assistant Research Scientist Dr. S. Rao Chaganti for receiving $5000 in seed funding from the Central Michigan University Biological Station (CMUBS), located on Beaver Island in Lake Michigan. Since 2010, CMUBS seed funding has been available yearly to researchers that are integrated within CMU's Institute for Great Lakes Research and planning projects on the island. Drs. Carrick and Chaganti will be sampling Beaver Island's seven inland lakes to compare dreissend mussel impacts on plankton size distribution. Not all of the lakes on Beaver Island contain dreissend mussels, so this project will focus on changes in plankton size based on the size and presence of dreissend mussels. Research results and methods from this project will complement and extend to CIGLR's Omics and eDNA/eRNA work.
CIGLR Hosts Virtual Summit Addressing Groundwater Challenges in Michigan 

Groundwater is a critical but understudied and underappreciated natural resource, both nationally and in the Great Lakes basin. Given its importance and increasing pressures being placed on groundwater in the Great Lakes region, issues have arisen around both groundwater quantity and quality in recent decades. A CIGLR summit led by Alan Steinman, PhD (Grand Valley State University) was convened to addresses key groundwater issues. A group of 29 experts participated from the academic, private, and public sectors, including steering committee members Philip Chu, PhD (NOAA GLERL), Patrick Doran, PhD (The Nature Conservancy), Carol Miller, PhD (Wayne State University), Don Uzarski, PhD (Central Michigan University), and Tom Zimnicki (Michigan Environmental Council). The summit specifically focused on Michigan groundwater, which is in the midst of several critical issues, in terms of both quality (e.g., PFAS) and quantity (declining static water levels, bottled water withdrawals). This summit aimed to inventory the key challenges facing groundwater in Michigan; identify the knowledge gaps, scientific needs, and policy recommendations associated with these challenges; construct a set of conceptual models; and develop a list of next steps that can be taken to address these groundwater challenges. The group plans to produce a white paper focused on policy implications and recommendations, and at least one peer-reviewed manuscript based on summit findings.