11/7/17: Christopher Spence
November 7, 2017 @ 10:30 am

-

11:30 am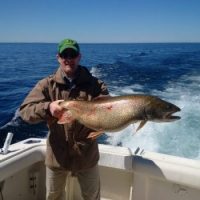 Please join us for a Great Lakes Seminar Series presentation:
Time: 10:30-11:30 am EDT
Location: NOAA Great Lakes Environmental Research Laboratory, Lake Superior Hall
Presenter: Dr. Christopher Spence, Environment and Climate Change Canada
Title: Ten years of the Great Lakes Evaporation Network: Progress Made and Opportunities for the Future
*Remote participation is available via webinar. To participate remotely, please register at: https://attendee.gotowebinar.com/register/2007397456817558017. Once registered, you will receive a confirmation email containing information about joining the webinar.
Abstract: The period of sustained low water levels from 2006 – 2012 renewed interest in the water budgets of the Laurentian Great Lakes. At the time, there had not been a sustained coordinated effort to directly measure evaporation over the world's largest freshwater surface. Instrumentation was deployed in 2008 on Lake Superior as part of the International Upper Great Lakes Study to evaluate operational atmospheric and hydrological models in both Canada and the United States of America. This original field campaign has evolved into the consortium that is the Great Lakes Evaporation Network. This presentation will summarize significant advances in process understanding, water budget regime characterization, operational modelling and observational technologies for which the network is responsible. There remain challenges that will be discussed. These include knowledge gaps in the spatial distribution of evaporation and resilience of the thermal regime; forecast model assessment; and operationalization.
Bio: Chris was born in Hanna, Alberta and raised in Regina, Saskatchewan. Chris holds a B.A. (Hons.) and M.Sc. from the University of Regina and a Ph.D. from McMaster University. He began his career as a GIS/remote sensing technician with the National Hydrology Research Institute of Environment Canada. Between 1994 and 2004 he worked as a hydrologist with (what was then) Indian and Northern Affairs Canada and Environment Canada in Yellowknife, Northwest Territories. In 2004, he relocated back to Saskatoon where he now works as a research scientist for Environment and Climate Change Canada. He holds adjunct professor appointments at the Universities of Saskatchewan and Manitoba. His research focuses on hydrological and hydrometeorological processes in cold regions, with field studies in complex landscapes such as the Canadian Shield and Prairie, and the Laurentian Great Lakes. He has a beautiful wife with whom he has a daughter. Loves them dearly. Away from work, he enjoys mountain biking, backpacking, and drumming with the North Saskatchewan Regiment Pipes and Drums. He likes to travel, and see how other people live, and hear their perspectives.
Important Visitor Information
All in-person seminar attendees are required to receive a visitor badge from the front desk at the NOAA Great Lakes Environmental Research Laboratory facility. Seminar attendees need to present a valid U.S. photo ID or green card. If you are a Foreign National, advance notification of at least 48 hours is needed so that security guidelines are followed. You will need to present your passport (a copy will NOT work). For questions regarding building access, or assistance in obtaining Foreign National clearance, please call 734-741-2393. Email contact: Tim.Powell@noaa.gov
_____________________________________________________
Questions? Contact Mary Ogdahl: ogdahlm@umich.edu
Related Events