800+ journal articles & reports
Ecological responses to water diversion of the eastern route of the South-to-North Water Diversion P...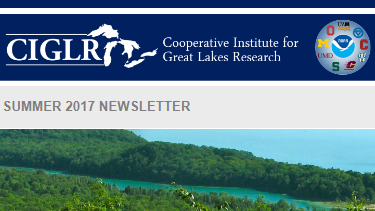 In this Issue: CIGLR Impacts. Summer Announcements. Stakeholder Spotlight, Charter Captains Use NOAA Tool to Teach about Algae. Partner Research Features, Understanding Muskegon Lake – a Great Lakes Estuary under Stress. Partner Research Features, Tackling the HAB Problem in Green Bay, Lake Michigan. Recent News & Publications. Sign up to receive CIGLR's quarterly eNews and stay informed about Great Lakes research and events.
This week, CIGLR is featured in the International Joint Commission (IJC) newsletter, The Great Lakes Connection. The IJC is part of CIGLR's regional consortium that consists of nine university partners, 25 university affiliates, five private-sector partners, and numerous NOAA-related programs and supporting initiatives, that span all five Great Lakes.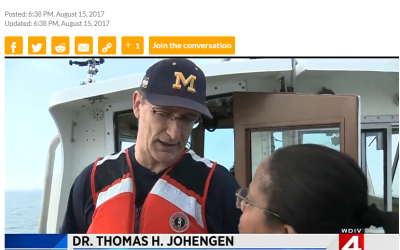 Our first attempt to retrieve the harmful algae and toxin tracker – ESPNiagara – from Lake Erie was unsuccessful. Somehow the ESP had slipped from the cable and was left on the bottom of Lake Erie. But with the help of some extra equipment and underwater cameras our ESP was recovered! Thank you Paula Tutman and WDIV Local 4 Detroit for a great story and interviews!