Student Fellowship Opportunities
CIGLR offers two fellowship programs that support student research opportunities, in order to train the next generation of Great Lakes researchers.
Great Lakes Summer Fellows Program

CIGLR administers an annual Great Lakes Summer Fellows Program, in partnership with NOAA's Great Lakes Environmental Research Lab (GLERL). This program helps place promising undergraduate* (junior or senior) and graduate students with both University and Federal research mentors. Through this program, students work on substantive research issues in the Great Lakes and undergo a career training program that equips them with the knowledge and skills to be the next generation of Great Lakes scientists.
Applications (coming December 2019)
•  2020 Application Information (coming December 2019)
•  2020 Position Descriptions (coming December 2019)
•  Current & Past Summer Fellows
*We encourage undergraduate freshmen and sophomores interested in environmental fellowships to apply for the Doris Duke Conservation Scholars Program.
Want to know more? Check out our informational video: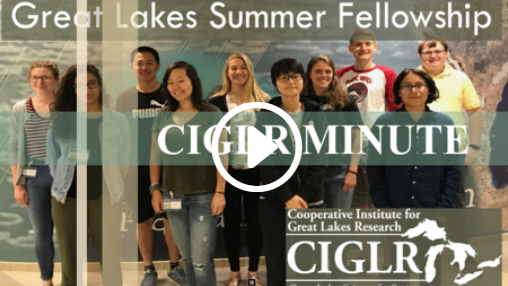 The next generation of Great Lakes researchers starts here. Every summer, CIGLR supports a cohort of promising upper level undergraduate and graduate students to complete research projects mentored by both University of Michigan faculty and Federal researchers. Our fellows are primarily located at the NOAA Great Lakes Environmental Research Laboratory in Ann Arbor, Michigan and are offered a variety of projects to conduct cutting-edge research on the Great Lakes' most pressing issues. Jennifer Tompkins, says "Being a Great Lakes Summer Fellow has given me the opportunity to explore and contribute to diverse research aimed at keeping the human and biological communities safe and balanced in the Great Lakes Region I call home."
Graduate Research Fellowships
CIGLR sponsors 2 competitive Graduate Research Fellowships each year that provide graduate students $25,000 to work at Regional Consortium University Partner institutions on research in the Great Lakes related to CIGLR's research themes, in collaboration with CIGLR or NOAA research scientists.  Fellowship funds may be used for tuition, stipends, research supplies, and/or travel.
The goals of this program are: 1) to provide training and educational opportunities for students who will become the next generation of Great Lakes researchers, 2) enhance collaborations between CIGLR's University Partners and PIs at NOAA GLERL, and 3) increase student retention within the freshwater aquatic sciences.
Program Announcements – Application period closed, 2020 announcements coming fall 2019
We seek to use these fellowships to increase diversity in STEM disciplines (science, technology, engineering and math), and thus, strongly encourage applications from students who identify with groups that have been traditionally underrepresented in government and academic workforces.