Description
CIGLR provides up to $2,000 to support undergraduate, graduate, or comparable research assistants who incorporate a political engagement, communications, or outreach component into their work. The ECO program component must highlight the contributions of NOAA, CIGLR, and CIGLR's Regional Consortium Partners to research and management of the Great Lakes for the good of its people. Examples include, but are not limited to, Congressional visits, op-ed articles, K‐12 education activities, community outreach events, public education talks, establishment of social media sites or feeds, factsheets, newsletters, or magazines. For information about CIGLR's ECO Program, visit ciglr.seas.umich.edu/outreach-education/eco-program/.
2019 Program Announcement
2018 ECO Funding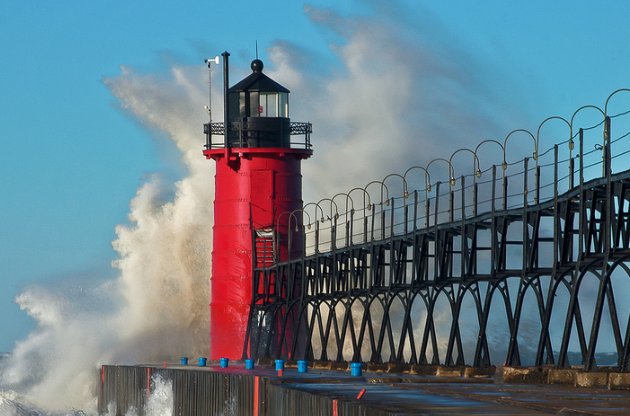 Project Title: Enhanced monitoring and data management to support meteotsunami research and detection
Key Project Personnel: Dr. Phillip Chu (NOAA GLERL) and Ed Verhamme (Principal Investigator, Limnotech)
In The News: Scientists launch pilot project to warn of potentially dangerous 'meteotsunami' waves in Great Lakes; Michigan News; 8/3/2018
About: The recent occurrences of a meteotsunami event on Lake Michigan, including a 14 inch water level rise in only 40 minutes near Ludington MI on April 13, 2018 (MLive), demonstrated that the existing observing network is not adequate to observe or attempt to predict this phenomenon. Meteotsunamis have the potential to cause significant damage to shoreline structures and can endanger lives (Bechle et al. 2016, Nature). A more robust monitoring and alert system is needed on Lake Michigan and Lake Erie to monitor, detect and mitigate the impact of future events. The ECO funding provided by CIGLR will be used to educate the public about the risks of meteotsunamis and new sensor monitoring network, focusing on Lake Michigan and Lake Erie as those two lakes have higher occurrence and resulting impacts to life and property.