2021 ECO Program Funding
Project Title: Communicating the Impact of Road Salt Pollution in the Great Lakes
Key Project Personnel: Lexi Passante (University of Wisconsin Milwaukee) and Sandra McLellan (University of Wisconsin Milwaukee)
In The News: 
Passante, E.K.; L.E.Dechant; C.J.Paradis; S.L.McLellan. 2022. Halophilic bacteria in a Lake Michigan drainage basin as potential biological indicators of chloride-impacted freshwaters. Science of The Total Environment. 846 (157458). (DOI:10.1016/j.scitotenv.2022.157458). [Altmetric Score]
About: In snowy climates, road salts are applied to keep roads safe but end up in waterways through snowmelt events. Chloride (a chemical compound found in road salts) permanently pollutes and raises the salinity of freshwater and can be harmful to aquatic organisms when exposed. However, not much is fully understood of the long-term impacts of chloride. Lexi Passante, a graduate student in Sandra McLellan's, PhD, laboratory at the University of Wisconsin Milwaukee (UWM) School of Freshwater Sciences took a microbiological approach to investigate these impacts. With support from a CIGLR ECO Award, Passante sampled sediment at riverine sites located in a Lake Michigan drainage basin and discovered widespread halophile populations. Halophiles (salt-loving bacteria) generally require the presence of salt to survive, and can be found in places like our oceans. "Our findings were very surprising!" said Passante. "We thought it would be difficult to find halophiles sustained in freshwater—so, we definitely wanted to share our results with the hope of educating others about chloride pollution." Passante teamed up with Wisconsin Salt Wise, Oconomowoc High School, Waukesha County, and the UWM Film Department to create educational materials through Data Nuggets and a video series that documented Passante's research. "The data we collected was incorporated into the Data Nuggets educational page for students to learn how to work with environmental datasets," explained Passante. The videos are currently promoted by the Wisconsin Salt Wise social media team to advance chloride awareness.
2019 ECO Program Funding
Project Title: State of the Strait: Reporting on Indicators of Ecosystem Health
Key Project Personnel: John Hartig (GLIER) and Jan Ciborowski (University of Windsor) 
In The News: 
About: An important Canada-U.S. collaboration on the health of the Detroit River and western Lake Erie is the biennial State of the Strait (SOS) conference. This Conference brings together Canadian and U.S. managers, scientists, environmental organizations, industrial representatives, business and community leaders, students, and concerned citizens to address key issues pertaining to the health of this ecosystem. SOS conferences are important mechanisms for synthesizing science, strengthening the science-policy linkage, and catalyzing actions to improve ecosystem health. They typically attract 200-300 people.
The 2006 SOS Conference focused on status and trends of key indicators. It has now been 13 years since this indicator reporting effort was initiated and a comprehensive assessment of the ecosystem health performed. This year (2019) marks the next Cooperative Science and Monitoring Initiative focused on Lake Erie and Lake St. Clair and the Detroit River System. This program will engage NOAA and many of CIGLR's Regional Consortium Partners and represents an opportune time to update and report on the overall ecosystem health. We are working with partners to compile existing data on key environmental, economic, and societal indicators for the region and provide an updated assessment of ecosystem health. We will both update existing indicators and propose new ones. Each indicator report presents background information, long-term trends (30+ years of data), status relative to targets, monitoring and research needs, and important next steps for management.
Updated indicator summary reports have already been completed for 11 indicators and over 30 are under development. These indicators will be the focus of the next SOS Conference scheduled for November 2019 at the University of Windsor. The conference will help provide a timely assessment of ecosystem health, strengthen the science-policy linkages and collaborations, document the Strait's many restoration efforts and successes, and help catalyze further cleanup and restoration efforts.
---
Project Title: Communications and Outreach Plan for Dealing with Realtime Great Lakes environmental data
Key Project Personnel: Jill Crossman and Aaron Fisk, Great Lakes Institute for Environmental Research (GLIER), University of Windsor
About: The Great Lakes Institute for Environmental Research (GLIER) at the University of Windsor, a CIGLR partner, will be launching the Realtime Aquatic Ecosystem Observation Network (RAEON) in the summer of 2019, a $15-million Canadian investment in instruments and equipment. REAON will be working closely with NOAA GLERL and CIGLR to deploy four real time sensor arrays in the western basin of Lake Erie in May 2019 that will capture fine-scale data to validate and check dissolved oxygen and temperature models developed by GLERL. These arrays will also support UWindsor research on nutrient transport mechanisms and associated lake biogeochemical responses to improve our knowledge of threshold drivers of harmful algal blooms.
---
Project Title: Great Lakes Echo Student Journalist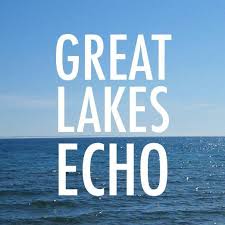 Key Project Personnel: Dave Poulson, Eric Freedman, & Perry Parks (PIs); Andrew Blok (graduate student) – Michigan State University Knight Center for Environmental Journalism
In The News: Between government shutdowns? Great Lakes researchers struggle to carry on, Great Lakes Echo, 2/7/2019
About: Created and operated but The Knight Center and the MSU School of Journalism, Great Lakes Echo is an outreach tool for research on the Great Lakes. Its content regularly disseminates information to general audiences about efforts by CIGLR member institutions and PIs to enhance knowledge of the Great Lakes and to manage their ecosystems. The journalistic approach to this dissemination – moving from study to story – ensures a level of independence, ethical responsibility, and credibility in coverage of Great Lakes research through the use of multiple sources and verification practices. It also provides an outlet for stimulating public curiosity and engagement in Great Lakes research through news values emphasizing discovery, novelty, and civic impacts. ECO funding provided by CIGLR will be used to support a semester-long fellowship, dedicating one student to report journalistic stories on CIGLR-affiliated research and activities on the Great Lakes.
2018 ECO Program Funding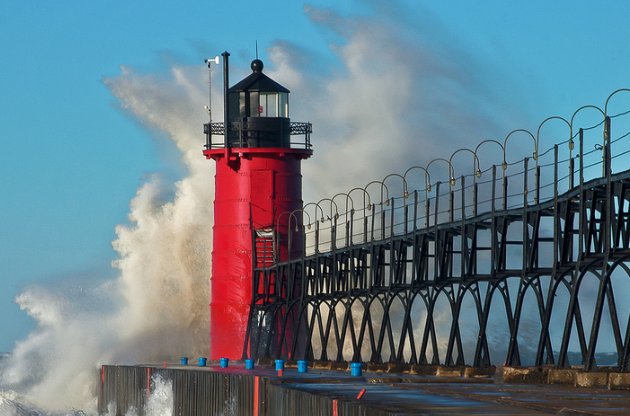 Project Title: Enhanced monitoring and data management to support meteotsunami research and detection
Key Project Personnel: Dr. Phillip Chu (NOAA GLERL) and Ed Verhamme (Principal Investigator, Limnotech)
In The News: Scientists launch pilot project to warn of potentially dangerous 'meteotsunami' waves in Great Lakes; Michigan News; 8/3/2018
About: The recent occurrences of a meteotsunami event on Lake Michigan, including a 14 inch water level rise in only 40 minutes near Ludington MI on April 13, 2018 (MLive), demonstrated that the existing observing network is not adequate to observe or attempt to predict this phenomenon. Meteotsunamis have the potential to cause significant damage to shoreline structures and can endanger lives (Bechle et al. 2016, Nature). A more robust monitoring and alert system is needed on Lake Michigan and Lake Erie to monitor, detect and mitigate the impact of future events. The ECO funding provided by CIGLR will be used to educate the public about the risks of meteotsunamis and new sensor monitoring network, focusing on Lake Michigan and Lake Erie as those two lakes have higher occurrence and resulting impacts to life and property.