8/17/16: John Iames & Ross Lunetta
August 17, 2016 @ 1:30 pm

-

2:30 pm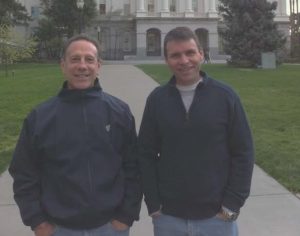 Please join us for a Great Lakes Seminar Series presentation:
Time:1:30 – 2:30 pm EDT
Location: NOAA Great Lakes Environmental Research Laboratory, Lake Superior Hall
Presenters: John S. Iiames and Ross S. Lunetta, U.S. Environmental Protection Agency, National Exposure Research Laboratory
Title: Cyanobacteria Assessment Network (CyAN) for freshwater systems: an early warning indicator for toxic and nuisance blooms using ocean color satellites

Event flyer

Webinar recording: https://www.youtube.com/watch?v=VfMc4N_xTE0&t=2s

Abstract: The U.S. Environmental Protection Agency, National Aeronautics and Space Administration (NASA), National Oceanic and Atmospheric Administration (NOAA), and the U.S. Geologic Survey (USGS) are collaborating to provide an approach for mainstreaming satellite ocean color capabilities into U.S. fresh and brackish water quality management decisions. The overarching project goal is to support the environmental management and public use of U.S. lakes, reservoirs, and estuaries by providing the capability to detect and quantify cyanobacteria blooms using satellite data records. Satellite remote sensing tools may enable policy makers and environmental managers to assess the sustainability of watershed ecosystems, and the services they provide, under current and future land use practices. Satellite technology allows for the development of cyanobacteria early-warning indicators at the local scale with continuous, synoptic national coverage. This project is structured within a sustainability framework for a more holistic approach including environmental, human health, and economic considerations. The multi-agency collaborative effort has six main components: (1) develop a uniform and systematic approach for identifying cyanobacteria blooms across the contiguous U.S.; (2) evaluation and refinement of algorithms across satellite platforms; (3) link impacts of landscape changes and bloom events; (4) demonstrate satellites can link exposure and human health effects in drinking and recreational waters; (5) evaluate the economic value of the satellite early warning system; and (6) data dissemination and training for stakeholders.
Disclaimer: This work is done in support of EPA's Sustainable Healthy Communities Research Program. The U.S. Environmental Protection Agency funded and conducted the research described in this abstract. Although this work was reviewed by the EPA and has been approved for publication, it may not necessarily reflect official Agency policy. Mention of any trade names or commercial products does not constitute endorsement or recommendation for use.
Important Visitor Information
All in-person seminar attendees are required to receive a visitor badge from the front desk at the NOAA Great Lakes Environmental Research Laboratory facility. Seminar attendees need to present a valid U.S. photo ID or green card. If you are a Foreign National, advance notification of at least 48 hours is needed so that security guidelines are followed. You will need to present your passport (a copy will NOT work). For questions regarding building access, or assistance in obtaining Foreign National clearance, please call 734-741-2393. Email contact: Tim.Powell@noaa.gov
Related Events