2018 Harmful Algal Blooms Voter Preference Survey
Research Overview

---
Scientists at the Cooperative Institute for Great Lakes Research (CIGLR) invite you to take part in this 2018 Harmful Algal Blooms Voter Preference Survey about your experiences with harmful algal blooms in Lake Erie. In this survey, you will share your thoughts on a hypothetical set of regulations (such as requirements, taxes or fines) and incentives (such as grants, payments, or tax credits) that are under consideration that might help reduce water pollution and harmful algal blooms in Lake Erie. By asking you to share your views on these regulations and incentives, our goal is to …?
The survey consists of four parts: 1) your experience with, and knowledge about, harmful algal blooms in Lake Erie, 2) your preferences for state government incentives versus penalties for agricultural producers to reduce harmful algal blooms, 3) your views about agriculture and environmental regulation, and 4) more information about yourself, as the respondent.
We will prepare fact sheets, blogs, scientific journal articles, and other communication products that are tailored for a broader audience. This project is part of CIGLR's continuous efforts to support effective and socially desirable bloom management strategies with high quality natural and social science data. However, this study is not associated with any particular policy proposal. Our study methods are designed to remove researcher bias from data collection and reporting. [This paragraph has several logic jumps, and does not read well]
Paper copies of this survey were mailed to a random sample of Michigan and Ohio voters based on publicly available voter registry records. If you received one, we thank you for taking the time to fill it out and mailing it back! However, all Michigan and Ohio voters are welcome to share your opinion with us by clicking the button above to take the online survey
For more information, please refer to the FAQ below:
FAQS
---
How long will it take to complete the survey?
Based on prior testing, the questionnaire is estimated to take between 7 and 10 minutes to complete.
What is the purpose of this study?
In the past twenty years, the number and duration of harmful algal blooms in Western Lake Erie has increased. The latest scientific research is helping us to understand the causes of the problem and point to potential management strategies, but any strategy intended to reduce the bloom will require public support.
The next step in developing management strategies to reduce harmful algal blooms is to understand current public opinions about the blooms. This survey seeks to identify what Michigan and Ohio voters know about harmful algal blooms, and the factors that influence voter preferences for state-level harmful algal bloom policies.
Who are the researchers?
The leading scientist on this project is Dr. Tian Guo. She received her training from the University of Minnesota and North Carolina State University. Her research focuses on decision-making related to natural resource management and protecting the environment for human wellbeing. Currently, she works with natural scientists and stakeholder groups to understand public opinions related to Great Lake water quality policies and to create knowledge about how public attitudes and behaviors are formed and developed. Tian has a background in outdoor recreation management and statistics.
Devin Gill (insert link to Devin's personal web page) is the stakeholder engagement specialist for CIGLR. Her role is to lead collaboration between researchers and communities to increase public understanding and usability of Great Lakes science, and identify opportunities to involve citizens in Great Lakes research. If you have questions about this study, please contact Devin at deving@umich.edu.
Jenny Tompkins is a research fellow with CIGLR. She recently graduated with a Bachelor's degree in environmental studies from Allegheny College in Meadville, PA. She will be assisting with the survey data collection process this summer.
How are my rights as a study participant protected?
All studies that collect information from people are reviewed and approved by the University of Michigan Internal Review Board to ensure that your rights are protected.
Personally identifiable information (including your name and mailing address) will not be reported in association with your survey responses. Any personally identifiable information will be carefully guarded in password protected computers and not included in the reporting of survey results.
How were the survey mailing participants determined?
We drew a sample of voter name and addresses from the voter registration records. These records in Ohio and Michigan are publicly available. For example, for the state of Ohio, all voter registration information is available for free download online through the office of the secretary of State and can be found here.
When is the last day to send my completed survey back?
Return postage is included in every survey mailing. Please return the completed survey to the Cooperative Institute for Great Lakes Research by: TBD.
What will be done with the survey results?
Survey results will be reported to the scientific community through a scientific journal article and presentations. Fact sheets, blogs, and other communication products may also be developed to share study results with a broader audience.
What other research does CIGLR complete related to HABs?
The Cooperative Institute for Great Lakes Research partners with researchers at the NOAA Great Lakes Environmental Research Lab to conduct research on the harmful algal blooms in lake Erie. Our research teams use an integrated approach to understand the environmental drivers of harmful algal blooms to predict events. This approach includes monitoring harmful algal blooms using satellite images, remote sensing, buoys, a comprehensive field monitoring program in Lake Erie, Saginaw Bay, and Lake Huron, and advanced genetic techniques to understand the long and short-term seasonal dynamics of the blooms. The data collected is used to develop harmful algal bloom forecast models used by key Great Lakes stakeholder groups, such as drinking water managers. Effective management of the Great Lakes ecosystems requires timely and continuing predictions of ecosystem change. Our research seeks to improve forecasts of water quality to reduce risks to ecosystem health associated with recreational exposure, consumption, and treatment of Great Lakes water. For more information about our work on harmful algal blooms, visit our HABs and Hypoxia web page.
Where can I get information about HABs in Lake Erie for this summer?
Information regarding forecasts for HABs in Lake Erie is provided by the National Oceanic and Atmospheric Administration (NOAA) and can be found here. The public can subscribe to receive email updates twice weekly starting July 12, 2018.
Research Process / Timeline
---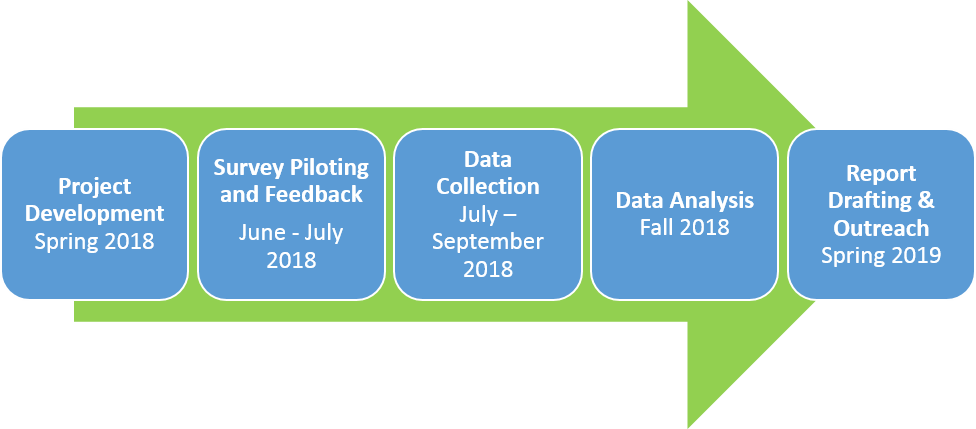 Share
---
Please share this survey information and link with other Ohio voters!