Yuanyuan Jia
Postdoctoral Research Fellow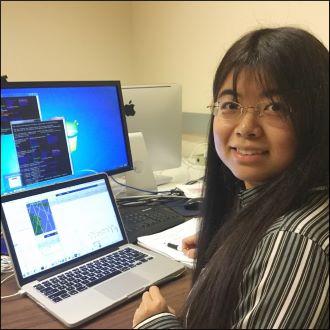 230B Mendenhall Laboratory
125 South Oval Mall
Columbus, Ohio 43210
Profile: 
Yuanyan Jia was a postdoctoral fellow with CIGLR from Ohio State University, advised by Dr. C.K. Shum of Ohio State University and Dr. Philip Chu of NOAA Great Lakes Environmental Research Lab. Her work concerns the collection and synthesis of radar altimetric readings from the Great Lakes for the purposes of improving ice and water level observations and forecasts.
Education:
Ph.D., The Ohio State University, Geodetic Science
M.S., The Ohio State University, Geodetic Science
B.S., Jilin University, Surveying Engineering
Research Interest/Area of Expertise:
Radar altimetry
Great Lakes Observation System (GLOS) and Great Lakes Operational Forecasting System (GLOFS)
Recent Publications: 
Zhang, G., T. Yao, W. Chen, G. Zheng, C.K. Shum, K. Yang, S. Piao, Y. Sheng, S. Yi, J. Li, C.M. O'Reilly, S. Qi, S.S.P. Shen, H. Zhang and Y. Jia. 2019. Regional differences of lake evolution across China during 1960s–2015 and its natural and anthropogenic causes. Remote Sensing of Environment. (DOI:10.1016/j.rse.2018.11.038). [Altmetric Score]
Tseng, K.-H., C.-K. Kuo, M.-H. Lo, C.K. Shum, M.M. Rahman, Y. Jia, T.-Y. Yang and P.-H. Shih. 2019. Using MODIS/Terra and Landsat imageries to improve surface water quantification in Sylhet, Bangladesh. Terrestrial, Atmospheric, and Oceanic Sciences. (DOI:10.3319/TAO.2018.11.15.04).
Chen, J.J., V. Mueller, Y. Jia and S.K.-H. Tsang. 2017. Validating migration responses to flooding using satellite and vital registration data. American Economic Review. (DOI:10.1257/aer.p20171052). [Altmetric Score]

Recent Presentations:
Shum, C.K., .CY. Kuo, T. Jin, T.Y. Yang, J. Guo, Y. Jia, J. OteroTorres, W. Chen, et al. 2019. Quantifying and Projecting Relative Sea-Level Rise in The Deltaic Regions. AGU Fall Meeting.
Yang, T.Y., J. Kessler, L. Mason, P. Chu, J. Wang, Y. Jia, C.K. Shum. 2019. Consistent, Long-term Ice Cover Observations and Satellite Altimetry Ice Thickness Retrieval Studies for the Laurentian Great Lakes. AGU Fall Meeting.
Jia, Y., X. Su, C.K. Shum, J.W. Kim, C.Y. Kuo. 2015. Study of the northern Qinghai-Tibetan plateau permafrost active layer depth rate using satellite geodetic observations. AGU Fall Meeting.