Peter Levi
Past Postdoctoral Research Fellow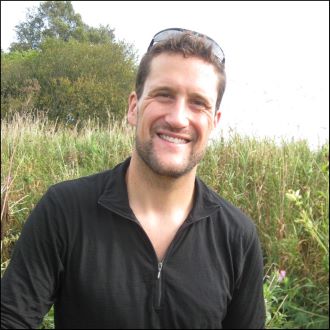 Environmental Science & Sustainability
Drake University
Des Moines, IA 50311
Profile:
Dr. Peter Levi is an assistant professor of environmental science and policy and an ecosystem ecologist at Drake University, wherein he leads the institution's Stream Ecology Lab. He specializes in aquatic ecosystems, focusing on functionality and biogeochemistry in of streams in a changing world. The lab's ongoing research explores changes in water quality along river networks and ecosystem responses to land use and restoration efforts. Dr. Levi has conducted research largely in the American Midwest, with such notable exceptions as projects conducted in Denmark and Uganda. Dr. Levi additionally has a background in environmental policy and environmental education for youth. His passion for education has led him to mentor many graduate and undergraduate students at Drake, as well as participating in science-focused community outreach.
Education:
Ph.D. in Biological Sciences, University of Notre Dame (2012)
B.A. in Biology, Lawrence University (2001)
Research Interest/Area of Expertise:
Stream Channel Restoration
Stream Ecosystem Ecology
Water Quality and Biogeochemistry
Environmental Education
Recent Publications:
Riis, T., J.L. Tank, A.J. Reisinger, A. Aubenau, K.R. Roche, P.S. Levi, A. Baattrup-Pedersen, A.B. Alnoee and D. Bolster. 2020. Riverine macrophytes control seasonal nutrient uptake via both physical and biological pathways. Freshwater Biology. (DOI:10.1111/fwb.13412). [Altmetric Score]
Riis, T., P.S. Levi, A. Baattrup-Pedersen, K.G. Jeppesen and S. Rosenhoj Leth. 2017. Experimental drought changes ecosystem structure and function in a macrophyte-rich stream. Aquatic Sciences. (DOI:10.1007/s00027-017-0536-1). [Altmetric Score]
Levi, P.S., P. Starnawski, A. Baattrupp-Pedersen, A. Schramm and T. Riis. 2017. Microbial community diversity and composition varies with habitat characteristics and biofilm function in macrophyte-rich streams. Oikos. (DOI:10.1111/oik.03400). [Altmetric Score]

Recent Presentations:
Levi, P.S. et al. 2017. Streambank Stabilization Workshop, Iowa Stormwater Education Partnership. Ames, IL, November 3rd, 2017.
Levi, P.S. et al. 2017. Safe Water Drinking Symposium, Drake University. Des Moines, IA, September 21st-22nd, 2017.