A Career of Leadership in Great Lakes Research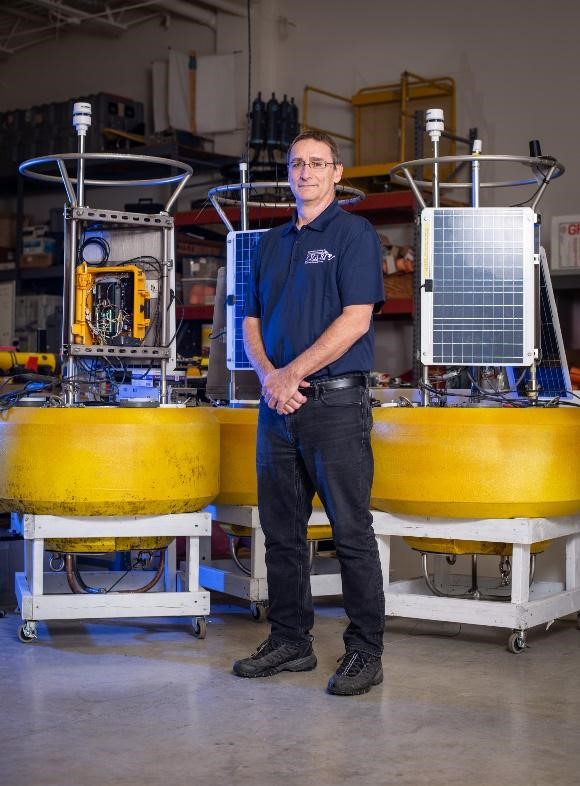 After 31 years serving the Great Lakes community, we celebrated the career of Dr. Thomas Johengen as he retired from the University of Michigan, January 20, 2023.
Tom Johengen had been a research scientist with the NOAA Cooperative Institute for Great Lakes Research (CIGLR, formerly the Cooperative Institute for Limnology and Ecosystems Research (CILER)) at the University of Michigan since 1991. He also served as the Cooperative Institute's Director (2000-2005, 2020-2021), as Associate Director (2009-2019), on numerous Great Lakes' advisory boards and panels, and most recently was the Michigan Sea Grant Director (2019-present).
Johengen holds degrees from Michigan State University (BS), Florida State University (MS), and the University of Michigan (PhD). His research focused on a range of critical Great Lakes issues, including harmful algal blooms, the impact of invasive species on lower food webs, ballast water management and the transfer of invasive species, and observing technologies.
Throughout his career, Johengen led many exciting research projects and mentored countless students, technicians, administrators, and scientists. His role as an advisor and Great Lakes science mentor motivated, challenged, and afforded incredible experiences and opportunities to those lucky enough to work alongside him. His research led to improved ballast water legislation to mitigate invasive species introductions. Importantly, he advanced our capacity to monitor Great Lakes water quality using emerging in situ technologies, and supported the development of ecological forecasting models to protect public health from the adverse effects of harmful algal blooms and hypoxia.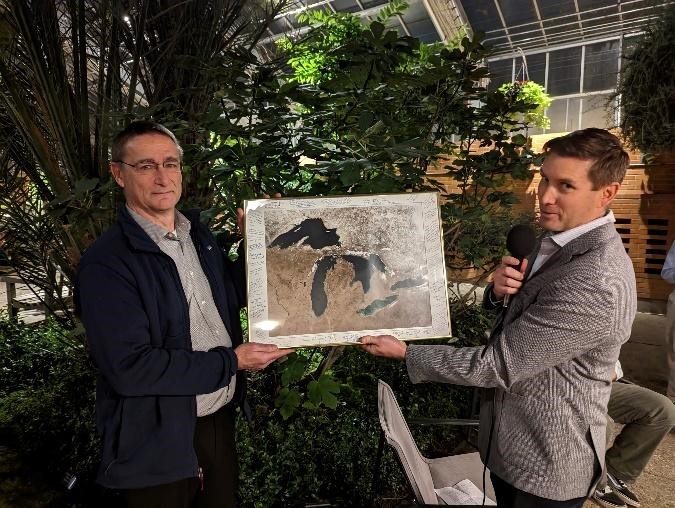 "Tom has been the ideal leader of our efforts to keep the Great Lakes great," said Dr. Jonathan Overpeck, Dean of the University of Michigan's School for Environment and Sustainability. "He understands the science and leveraged his knowledge to ensure the people and communities of the Great Lakes region continue to thrive for generations to come. This combination of perspectives gave Tom the ability to work with researchers and folks in society alike to create a compelling vision that made a real positive difference and impact. Thank you, Tom, for your endless efforts to research and protect our world's largest freshwater lake system."
"Tom has been a dedicated steward of the Great Lakes throughout his career, with substantial impact on protecting the health of the Great Lakes," said Deborah Lee, Director of the National Oceanic and Atmospheric 
Administration Great Lakes Environmental Research Laboratory (GLERL). "In his roles with the Cooperative Institute for Great Lakes Research and Michigan Sea Grant, he has been instrumental in fulfilling NOAA's mission of Science, Service, and Stewardship in partnership with GLERL. He has been a leader in scientific thought as well as a leader of people. Tom will be greatly missed, but I wish him the best on his new adventures."
"From my first Great Lakes cruise in 2009 to our collaboration on the renewal of CIGLR in 2022, I have had a front-row view of Tom's outstanding work on the Great Lakes and, he had already been doing Great Lakes research for 18 years before that!" said Dr. Gregory Dick, Director of the University of Michigan's Cooperative Institute for Great Lakes Research. "Tom has been the bedrock of Great Lakes research at the University of Michigan for so many years, and his research accomplishments are remarkable on their own. But, I will remember his exceptional passion for the work and care for his colleagues, the way he loved facilitating collaborative research, and especially his commitment to leadership and mentorship in service of others, including me. I will always be grateful for his leadership and guidance of CIGLR through a challenging transition. Thank you, Tom, and best wishes in your well-earned retirement!"
Q & A with Tom Johengen:
Q: What drew you to a career in Great Lakes research?
I grew up with a love of the outdoors and a deep connection to my time on the water, swimming, fishing, and boating at our family cottage in western New York. That connection, along with my preference for science subjects in college and the opportunity to work as a research assistant during my undergraduate studies, led me up to pursue a master's degree in oceanography. While I tremendously enjoyed the opportunity of doing oceanic research and my time at Florida State University, I knew that I always wanted to return to the Great Lakes region to pursue a career in academia.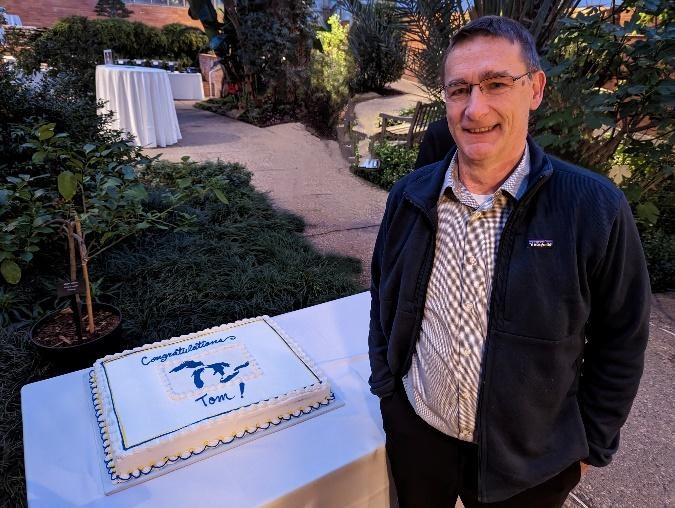 Q: Why did you decide to come to the University of Michigan?
I had become very fond of Michigan during my undergraduate years at Michigan State University and established a further connection to the state through my wife who grew up in Muskegon, Michigan. Those personal connections, along with the University of Michigan's strong history as one of the foundational institutions that helped develop the field of Limnology, made Michigan one of my top choices when applying for Ph.D. programs. I was very fortunate when Michigan offered me a graduate student research assistantship to help conduct a study on the effectiveness of agricultural best management practices to reduce nonpoint source nutrient pollution. That area of study was a natural fit for me since my master's degree had focused on the effectiveness of an artificial wetland to reduce nutrient pollution associated with urban stormwater runoff for a large public recreational lake.
Q: What was the most exciting / memorable part of your career?
It is impossible to pick out any particular project as the most memorable because every new study brought so many exciting opportunities to learn and develop new collaborations. As a faculty member, it was certainly gratifying to watch my graduate student advisees move on to successful careers and I feel proud to have contributed to their training and preparation. However, I would be a bit disingenuous if I did not admit that taking the 4pm to 4am sampling shifts out on the Great Lakes were some of the most enjoyable parts of the job.
Q: How do you think the position has evolved in your 31 years?
One of the things I love most about science and research is that it is constantly evolving. Certainly, technological advances in computing and instrumentation are some of the biggest drivers in our approaches and capacity to do research. I have spent a significant portion of my career helping to promote the development and application of new sensor technologies related to coastal water quality monitoring. The improvements in accuracy, sampling resolution, data management, and autonomous operations have been astonishing. However, probably the best and simplest answer to this question is that each new cohort of students and staff seems to be brighter and more skilled than the previous one. It certainly got harder and harder to keep up with them, and that helps me know that now is a good time to step aside and see just how far they can take us.
Q: What were some of your proudest moments?
I have always appreciated the fact that much of my research was directed at protecting the resources of the Great Lakes and serving public interests. I have had the opportunity to be part of a variety of applied research projects with outcomes directed at helping to solve pervasive management issues such as preventing the introduction of invasive species, or mitigating drinking water and public health concerns related to harmful algal blooms and hypoxia. While these beneficial societal outcomes were the underlying motivation of my research, it is of course the interactions with all my colleagues that made my job a true privilege and pleasure. It has been an honor to work with so many dedicated and passionate professionals across the basin, all directed toward making a positive impact within the Great Lakes community.
Q: What advice would you give to early career scientists just starting out?
For me, there were two key elements that helped lead to my successful career. The first was to build a strong set of collaborators with whom I could develop and implement my research program. Working within NOAA's Cooperative Institute for Great Lakes Research (CIGLR) and the Michigan Sea Grant program have been the absolute perfect environments for me and have provided such amazing and diverse teams of scientists to work with. The second was a willingness to explore many different opportunities and be willing to take on many new challenges. While this later approach is a little atypical for academia and can diminish how well established you become within your given field of specialization, I found each new project provided an opportunity to grow and expand the ways in which I could contribute to the improved management of our Great Lakes.
As I transitioned to more of a leadership position in the later part of my career, I similarly tried to live by the motto of never just saying no outright and approaching any new challenge or request with the attitude of 'well, let's just see how we can try to make that happen.'
Q: What do you hope to accomplish after retirement?
I purposely chose not to line up any immediate commitments or responsibilities. I have so many hobbies that I am looking forward to pursuing further and I know they will keep me busy. Plus, I can't wait for the opportunity to do an extensive amount of travel both within the United States and abroad. My wife and I have always enjoyed the opportunity to experience new places and cultures through our travels. It wasn't easy trying to fit in extended travel and vacations around my work schedule; now, it will be much easier! Lastly, I can only imagine how much larger our flower and vegetable gardens are going to become. I think the birds, bees, and butterflies at our house will be very happy.