Lindsay Fitzpatrick
Hydrological Modeler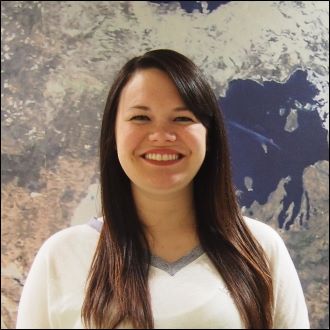 SEAS CIGLR
4840 South State Road
Ann Arbor, MI 48108-9719
I have been an atmospheric data analyst for CIGLR since May 2016. Currently, I am working with the Coastal Storms Project (CSP) on reconstructing heat fluxes and evaporation n the Great Lakes using FVCOM modeling. Before joining CIGLR, I conducted research at the University of Michigan on modeling surface ozone in the Great Lakes region using WRF-Chem. I also spent many years as a weather observer at the Detroit Metro Airport and the Tallahassee International Airport before completing my master's degree and most recently spent a year as an intern meteorologist at DTE Energy in Detroit, Michigan.
Education:
M.S., Atmospheric Science, University of Michigan, Ann Arbor, MI (2016)
Graduate Work, Meteorology, Florida State University, Tallahassee, FL (2011)
B.S., Meteorology and Mathematics, Central Michigan University, Mt. Pleasant, MI (2010)
Interests:
Forecasting
Severe Weather
Atmospheric Science
Atmospheric Chemistry
Great Lakes
Publications:
Fujisaki-Manome, A., L.E. Fitzpatrick, A.D. Gronewold, E.J. Anderson, B.M. Lofgren, C. Spence, J. Chen, C. Shao, D.M. Wright and C. Xiao. 2017. Turbulent Heat Fluxes during an Extreme Lake-Effect Snow Event. Journal of Hydrometeorology. (DOI:10.1175/JHM-D-17-0062.1). [Altmetric Score]
Charusombat, U., A. Fujisaki-Manome, A.D. Gronewold, B.M. Lofgren, E.J. Anderson, P.D. Blanken, C. Spence, J.D. Lenters, C. Xiao, L.E. Fitzpatrick and G. Cutrell. 2018. Evaluating and improving modeled turbulent heat fluxes across the North American Great Lakes. Hydrology and Earth Systems Sciences. (DOI:10.5194/hess-2017-725). [Altmetric Score]
Related Media: 
Lake effect snow storms have huge impacts on transportation, public safety and business revenue. Recently, great improvements have been made to forecasting lake effect snow and scientists from CIGLR are a part of it. Dr. Ayumi Fujisaki-Manome, CIGLR Assistant Research Scientist, and Lindsay Fitzpatrick, CIGLR Atmospheric Data Analyst, recently collaborated on an article that discusses instruments and models that can help improve the accuracy of lake effect snow forecasting.