03/23/22: Jordon Beckler
March 23, 2022 @ 1:00 pm

-

2:00 pm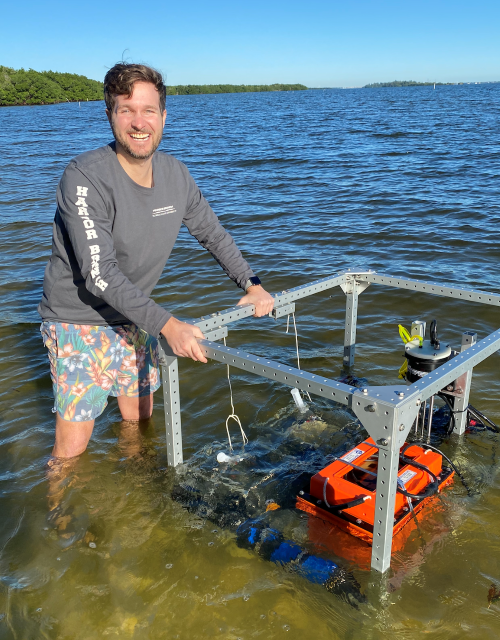 Please join us for a Virtual Great Lakes Seminar Series presentation:

Time: 1:00-2:00 pm EST
Location: Virtual
Presenter: Jordon Beckler – Assistant Research Professor, Geochemistry and Geochemical Sensing Lab, Florida Atlantic University Harbor Branch Oceanographic Institute & Institute for Sensing and Embedded Network Systems Engineering (I-SENSE)
Title: The Harmful Algal Bloom Assessment of Lake Okeechobee (HALO): Innovative monitoring technologies providing multidisciplinary insights into HAB dynamics and internal nutrient loading
About the presentation: Annual blooms of Microcystis aeruginosa on Lake Okeechobee have increased in intensity over the last few decades, drastically affecting lake water quality and ecology as well as the health of surrounding coastal water bodies receiving lake inflows. As part of the State of Florida Harmful Algal Bloom (HAB) Innovative Technologies program, our team employed a comprehensive suite of innovative monitoring technologies alongside more conventional techniques over CY 2021to unravel HAB ecological, optical, and biogeochemical dynamics. Some techniques to be highlighted included remote sensing (satellite and a long-duration fixed-location i.e. Seaprism), in situ holography (AUTOHOLO), acoustic sensing (AZFP), an Autonomous Surface Vehicle, and fixed-location water quality sensors (LOBOs). This presentation will focus, however, on novel findings related to sediment biogeochemistry and internal nutrient loading. We combined routine sediment sampling and analyses with deployments of a novel benthic lander for in situ nutrient and toxin flux monitoring. To better understand the controls of sediment nutrient generation and release, we obtained voltammetric (electrochemical) measurements of the sediment respiratory environment (aerobic and anaerobic respiration). Findings suggest that both nitrogen and phosphorous speciation and solubility may be coupled to iron cycling via mineral associations and iron-catalyzed transformations, and that diffusive vs. resuspension fluxes play disparate roles with respect to nitrogen vs. phosphorous benthic fluxes. Overall, these dependencies may regulate both the intensity and timing of HABs over hourly to decadal timescales, with important implications for both passive and active mitigation strategies.
About the speaker: Dr. Beckler is an Assistant Research Professor at Florida Atlantic University, with a joint appointment with the Harbor Branch Oceanographic Institute, the Institute of Sensing and Embedded Network and Systems Engineering (I-SENSE), and the Chemistry Department. As the PI of the Geochemistry and Geochemical Sensing Lab, his group's research centers around unraveling sediment biogeochemical processes in near-surface sediments and connections to ecosystem health. The lab develops and commercializes innovative technologies for monitoring sediment geochemistry (microbial respiration pathways/redox/nutrients) and exchanges with the water column (benthic fluxes). Current projects include monitoring Lake Okeechobee harmful algae blooms (FL DEP, EPA), the fluxes of carbon, iron, and CDOM from continental margin areas (NASA), and the exploration of submarine sink "blue holes" offshore in the Gulf of Mexico (NOAA).
**Registration is not required**
_____________________________________________________
Questions? Contact Mary Ogdahl: ogdahlm@umich.edu
Visit ciglr.seas.umich.edu for more information.
Related Events