Apply for the 2020 Great Lakes Summer Fellows Program!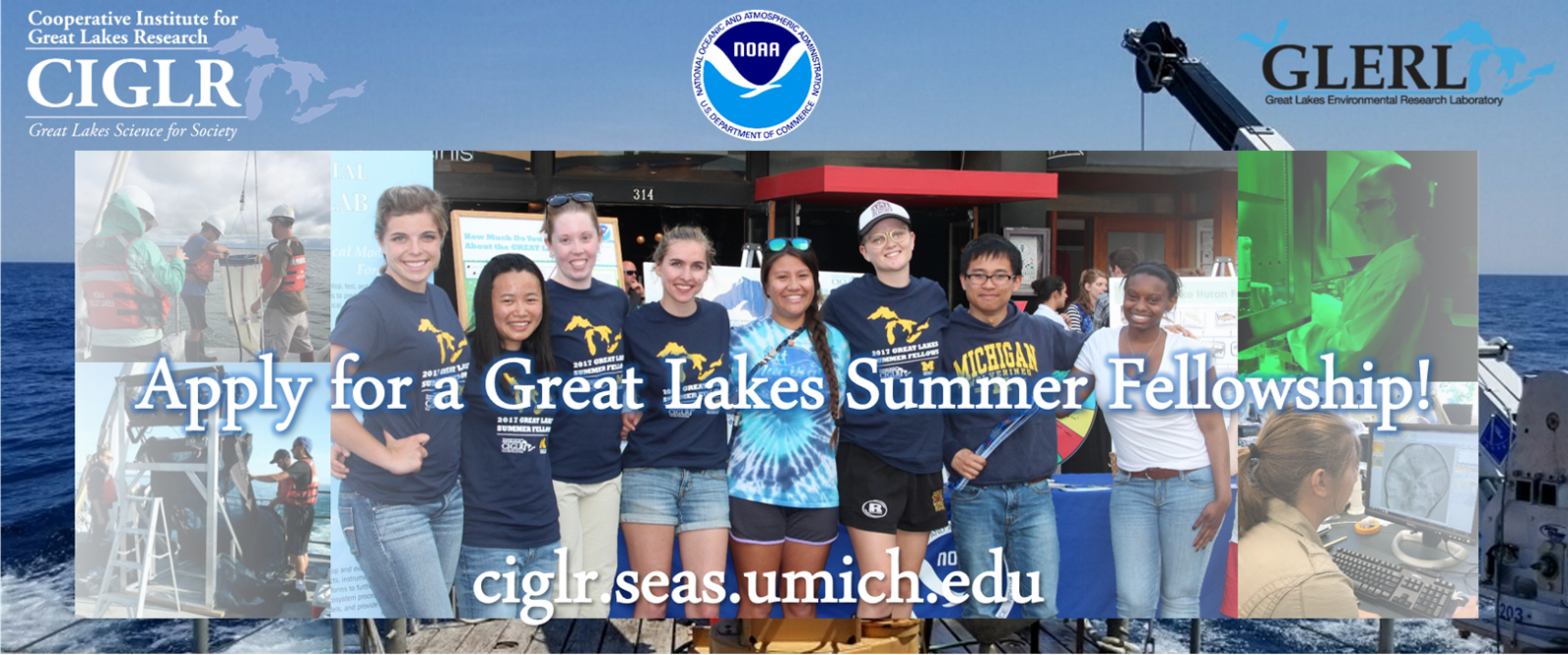 CIGLR is excited to announce the opening of our 2020 Great Lakes Summer Fellow applications! The Great Lakes Summer Fellows Program exposes students to a broad range of disciplines and provides an exciting opportunity for students to conduct research in the Great Lakes region under the mentorship of a CIGLR or GLERL scientist. We are offering 9 full-time, 12-week research fellowships located at the NOAA Great Lakes Environmental Research Laboratory (GLERL), 4840 South State Road, Ann Arbor, MI 48108. Each student will receive a $10,000 stipend and financial support for travel to/from Ann Arbor. A vehicle will be provided for students in need of transportation while in Ann Arbor. We seek to use these fellowships to build diversity in STEM disciplines (science, technology, engineering and math) and strongly encourage applications from students who identify with groups that have been traditionally underrepresented in government and academic workforces.
Applications are due Feb 23, 2020, 11:59pm EST! More here on eligibility & how to apply: Application Information
NOAA Great Lakes CoastWatch Hosts Inaugural Satellite Remote Sensing Course
The inaugural NOAA Great Lakes CoastWatch Satellite Remote Sensing Data Training Course was held November 5th-7th, 2019 at NOAA's Great Lakes Environmental Laboratory (GLERL) in Ann Arbor, Michigan. There were 26 participants including faculty and graduate students from six universities, NOAA federal scientists and contractors, NOAA Cooperative Institute researchers, and scientists from private industry and local government. The training course covered a wide range of topics such as CoastWatch data products, CoastWatch data servers, image processing tools (ArcGIS, R, Python, and CoastWatch utilities), and applications on sea surface temperature (SST), chlorophyll, water levels, ocean color, ice, hyperspectral imagery, and satellite altimetry. Through unique exercises, lectures, and hands-on practice, trainees learned how to search and utilize CoastWatch satellite data related to their research. "Overall, the first CoastWatch Great Lakes training class was very successful. Based on our participant feedback, the training expanded their knowledge about satellite data usage and proved very useful for their professional development in the subject," says Songzhi Liu, CIGLR Programmer/Analyst and research assitant for Great Lakes CoastWatch.
2019 State of the Strait Conference Hosted by the University of Windsor
The State of the Strait is a binational (Canada-United States) collaboration that hosts a meeting every two years to bring together government managers, researchers, students, environmental and conservation organizations, and concerned citizens to assess the current ecosystem status of the Detroit River and western Lake Erie. This year, the conference was hosted by the University of Windsor in Ontario, Canada where participants provided input on 50 individual indicator reports on the condition of this system , thus beginning the process of a comprehensive and integrative assesment of ecosystem health. A binational team of graduate students was heavily involved, with partial support from CIGLR ECO Funds. The students included two University of Michigan graduate students, Gwen Gell and Collin Knauss, and University of Windsor Faculty of Law students, Antoina Hristova and Kevin Berk.