CIGLR Welcomes New Members to Our Team
.
CIGLR's 2022 Annual Magazine: Ripple Effect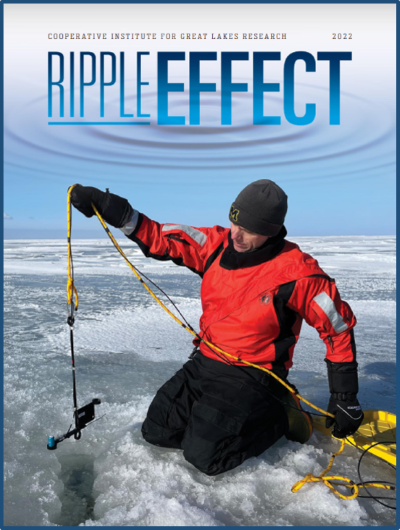 In case you missed the release of CIGLR's 2022 annual magazine, check it out here: Ripple Effect. This issue introduces CIGLR's new Associate Director, Dr. Sara Hughes, celebrates the esteemed career of our colleague Dr. Tom Johengen, provides research institute and regional consortium updates, and introduces new staff, students, and fellows.
"As you will read within this volume of the Ripple Effect, I need to commend all of our CIGLR staff for their tremendous dedication and commitment. They are the foundation of all that we do, if we are successful, it is because they are successful," said Greg Dick, CIGLR Director. "I am in awe of their performance, dedication, and enthusiasm. I am also excited to welcome Dr. Sara Hughes as Associate Director as she brings her expertise on water and climate policy and equity to CIGLR."
"I am excited to work with the scientists at CIGLR and NOAA to identify opportunities to ask and answer meaningful research questions that incorporate social science perspectives," said Dr. Sara Hughes. "This kind of interdisciplinary research can forward our understanding of the drivers of environmental challenges in the Great Lakes and identify opportunities for effective and equitable solutions."
If you are interested in a print version of the magazine, please contact CIGLR at: ContactCIGLR@umich.edu.
Defining Baseline Ecosystem Conditions in Dynamic Great Lakes Ecosystems: A CIGLR Summit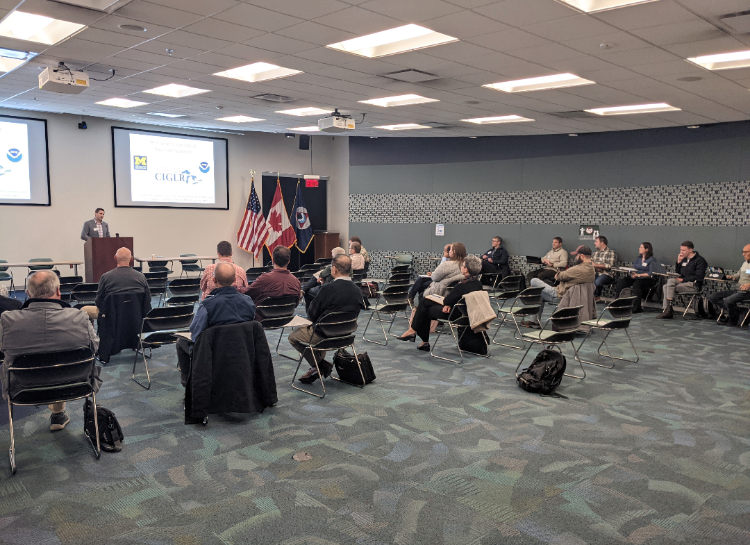 From December 12-13, 2022, a team of experts led by scientists from Ohio Sea Grant, CIGLR, Michigan Sea Grant, and NOAA GLERL convened to discuss how best to define baseline conditions within the context of ecosystem-based management, a long-standing goal of Great Lakes research and management. To ensure varied perspectives and contributions to the summit, participants from several federal, academic, binational, and non-profit entities were identified and invited to share their unique expertise on how best to monitor and assess each of the Great Lakes' ecosystems.
Defining a baseline ecosystem condition, or ecosystem objective, is a critical step in management and conservation, including mitigating anthropogenic stressors, managing fish populations, and measuring progress toward restoration. However, a baseline condition can be defined in many ways, and the chosen definition can have multiple implications. Because of their size, history, and dynamic ecosystem, the Great Lakes present many obstacles to effectively and efficiently defining baseline conditions. All of the Lakes have experienced natural (e.g., fluctuating lake levels and variable fish hatches) and human induced (e.g., climate change-induced changes in ice cover, runoff, and temperature) perturbations that have shifted biotic and abiotic conditions.
The summit group is preparing a summary of the summit outcomes for submission to a peer-reviewed journal. The paper will outline the baseline data available for the Great Lakes, gaps in data and research, the various approaches being used to define baseline ecosystem conditions, and  recommended changes to  current monitoring and assessment practices.
For more on the summit and associated products, please visit the SWG webpage: https://ciglr.seas.umich.edu/opportunities/summits-and-working-groups/.
6th Annual Photo Contest Winners
With an unwavering passion for water, the Great Lakes, and science, photographers from CIGLR seek to tell their stories through the lens. For the sixth year in a row, the CIGLR Photo Contest entries feature images that inform, inspire, and amaze. The artful stories that emerge offer shared experiences and adventure through our Great Lakes research. Learn more about CIGLR through our photographs on our Flickr website.
Songzhi Liu Receives 2022 NESDIS Collaboration Award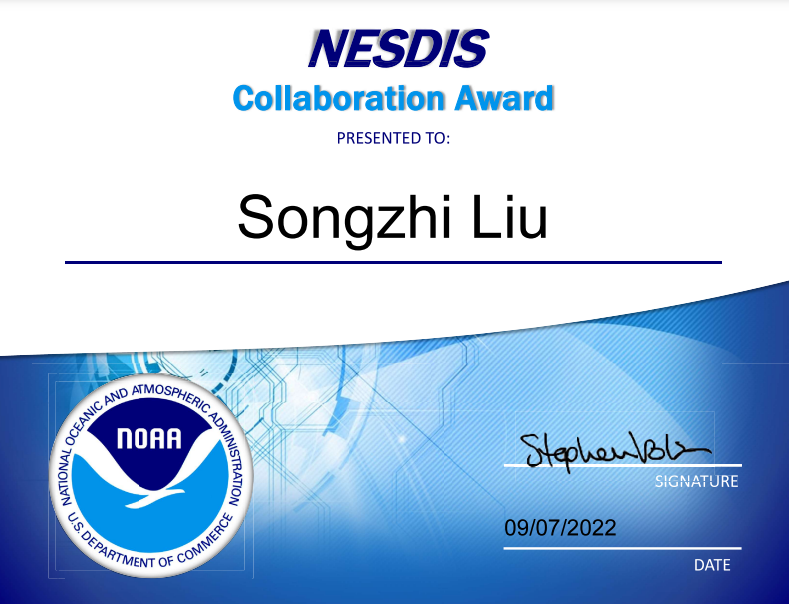 Congratulations to CIGLR's Songzhi Liu (Programmer/Analyst Lead, NOAA CoastWatch Great Lakes Node Operations Manager) on earning the 2022 National Environmental Satellite Data and Information Service (NESDIS) Collaboration Award! This award recognizes the grand achievement of the step change advances made to the CoastWatch Satellite Data Training Courses. "It is my privilege to work with a team that cares about their work deeply and executes it professionally," said Veronica Lance, NOAA CoastWatch/OceanWatch/PolarWatch Program Manager. "The CoastWatch training, Learning Portal and other outreach efforts have reached at least hundreds of people directly and likely many times more than that, indirectly, undoubtedly contributing to the success of missions across all of NOAA."